Website Design and Development
Websites Built for Business and Industry
We build clean, professional, customer-focused B2B websites that serve the real-world needs of business and industry.
You won't get a cookie-cutter website with pre-defined functionality when you work with us. We design and develop your custom website to meet your specific business needs, and just as importantly, to satisfy the needs and expectations of your customers.
We build your business website to be your most powerful marketing tool, one that can:
drive sales and grow your business
increase your online visibility
separate you from the competition
showcase your products and services
capture leads so you can turn prospects into customers
A great business website doesn't need lots of bells and whistles, but it does need to be intelligently designed and developed. We take your website seriously, and we take the time to do it right.
Our style isn't edgy or flashy. We believe your business website should, first and foremost, clearly communicate who you are and what you do. We design your website with a clean, attractive layout, consistent color scheme and easy navigation so your customers can focus on what they're supposed to focus on: your business.
How We Build a Better Website
Marketing First
We approach website development from a marketing perspective. Before we begin to plan how your website will look and function, we focus on who it will be built for – your customers. Simply put, the better your website serves your customers, the better it serves your business.
We start by learning about your products, services, customers, marketing needs and business goals.
We delve into the key marketing messages you want to communicate to your customers.
We identify, prioritize and organize your website's main content areas to address your customers' needs.
Our marketing-first approach lays a solid foundation for a well-designed and smartly executed website that's unique to your business and focused specifically on your customers.
We Work Closely With You
The best results come from teamwork, so we actively work with you throughout the planning, design and development of your website.
Getting a new website can be stressful. But it doesn't have to be. We guide you through our seven-step web development process, bringing you into the process at the appropriate points and using your time efficiently. We keep you involved and informed every step of the way so there are no surprises, and the website you get is the website you want.
Full-Service Web Design and Development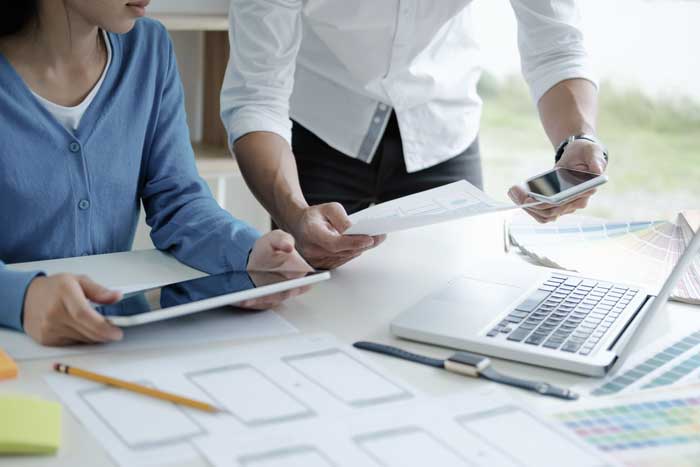 We're much more than web designers. We're also web developers. We have the technical skills and knowledge to build websites from the ground up. We know how to write code, design databases and work through technical issues to deliver a quality business website built to your specific requirements.
Our strong design and technical capabilities make us equally skilled at developing websites that are both visually pleasing and technically sound. In other words, we know how to build great-looking websites that load quickly and perform properly.
As a full-service company, we can handle all facets related to your web development project including content writing, photography, graphic design and illustration and website management.
Get the Right Tools, Features and Functionality
WordPress or Drupal – Platforms To Meet Your Needs
We develop websites using WordPress or Drupal, two of the most widely-used open source platforms. In determining which platform is best for you, we consider your business and marketing goals, desired website features and functionality, your website's technical complexity and the type of programming required to meet your objectives.
Responsive Design For a Better User Experience
We design your website to display properly on any device – tablet, mobile phone, desktop or laptop – which means a better user experience for your customers and better Google search rankings for you.
User-Friendly CMS Gives You Control
We install an easy-to-use CMS (content management system) that lets you take charge of your website content. Create new pages, update content, add photos and upload videos quickly and easily.
Website Tools To Boost Your Marketing
We integrate valuable website tools like website analytics, landing page modules, social media integration and lead capture forms that help your business grow.
Search Engine Optimization (SEO) Gets You Found
We build your website with SEO-friendly page URLs, page titles, alt tags and meta tags that make it easy for search engines to index your site, and easy for new customers to find you.
Training That Turns You Into a Pro
We give you personalized instruction in how to use your content management system. With just a couple of hours of training, you'll be able to manage your own website content and keep your website up-to-date.
Technical Support For Peace of Mind
We won't leave you out in the cold. Your new website comes with 30 days of free post-launch support so we can promptly address any technical issues or answer any questions you have.